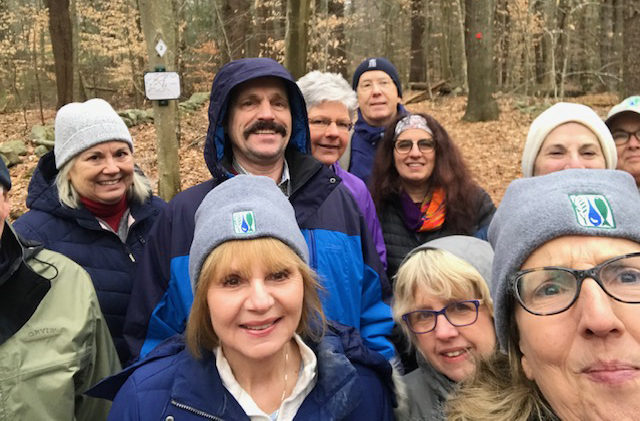 Sometimes a great idea just comes together. Recently two new volunteers were meeting with Development Director Gabriela Silva and the conversation turned to getting outdoors and meeting new people. One thing led to another… and the NSRWA Walking Club was born. Alida Alberts and Ellen Herling decided they would be just the people to give it a go.
Alida said, "From my perspective, the minute Gabby mentioned it I knew it would be something I would want to be a part of. Having just relocated here from Colorado I was ready to meet new people and make new friends. I love to be outdoors, love hiking, biking and can't wait to kayak! I had been following the NSRWA Facebook page even before we moved and I just had a feeling this was an organization I needed to join and support. I feel their mission is of utmost importance, and I'm thankful for all the work that has been done so far to protect our waterways."
Ellen shared, "I love to be outdoors, especially among the trees. I love hiking, snowshoeing, kayaking and swimming. It's so much more enjoyable to experience all of this with others who are in awe of nature's beauty in all the seasons. There's the earthy smell of nature, the changing colors in the fall, the crunch of leaves, moss on interesting rocks and trees, treetop canopies that reach up to the skies and provide cover for walkers, babbling brooks and the variety of birds that change with every season"
Their first walk was to Bates Lane Conservation Area in Scituate, and twelve new friends gathered for the hike. Marla and Rich Minier, who know the land so well, came and offered  lots of info along the way.
Ellen reflected, "The Bates walk was an enjoyable well marked walk through many miles of interesting fauna and flora with cart paths, stone walls and beautiful woods with rock formations created over 430 million years of outcropping of granite. We felt like we were in the middle of New England history."
"The first walk this past weekend proved I'm not the only one out there who enjoys being outdoors, meeting new people and chatting with other walkers. As we walked, different groups were chatting together and then they would split up and have a conversation with another group. It was a very casual and social event, and an opportunity to reach out to others and enjoy their company. Some of the walkers commented that they have lived here for many years and never knew of the Bates Lane property!", said Alida.
Ellen and Alida feel there will be "many more walks in our future and many more places to explore!"