NATURE
by Kezia Bacon, Correspondent
A quick quiz:
Do rivers begin at the ocean, or do they end there?
Is the South River part of the North River, or vice-versa?
Why are there so many "herring" brooks?
One of our objectives, in publishing these columns, is to spread awareness of the numerous public properties on the South Shore where you can enjoy nature. We also hope that — as you become more familiar with these places — you will develop a better understanding of how they are all connected. Knowing where the water comes from, and where it goes, draws us closer as a community, making us more familiar with our neighbors both up- and downstream.
When bodies of water flow into a common place, their shared drainage area is known as a watershed. Our rivers begin far upstream, in springs, brooks, ponds and swamps. While the North and South Rivers themselves flow only through the towns of Hanover, Pembroke, Norwell, Marshfield, Duxbury and Scituate, their watershed extends into six additional communities — Abington, Rockland, Whitman, Hanson, Hingham and Weymouth.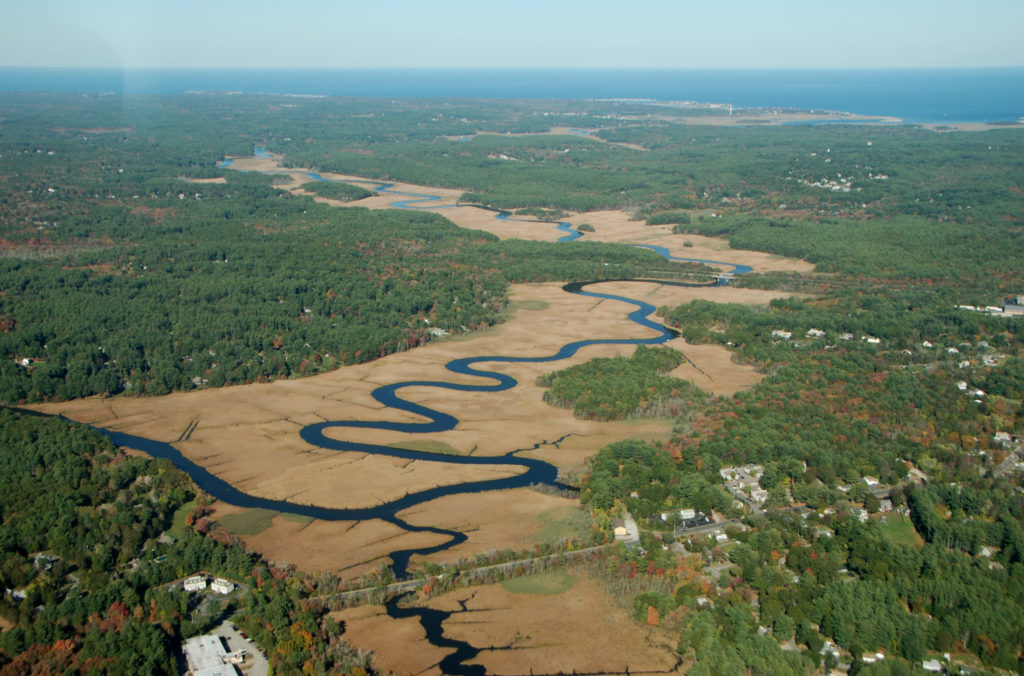 So, for example, waterways such as French's Stream in Abington, and Ben Mann Brook in Rockland, find their way into larger streams. These larger streams — such as Hanover's Cushing Brook and Drinkwater River — gain volume and momentum as smaller streams flow in. Soon after Iron Mine Brook joins the Indian Head River in Hanover, and Pudding Brook merges with Herring Brook in Pembroke, there's a place called The Crotch. This is the official start of the North River, the center of our watershed.
But there's more! Along its 12-mile route to the ocean, the North River continues to be fed. There are a number of smaller streams, but also First, Second, and Third Herring Brooks, and the Herring River. One of the last of these is the South River, which empties into the North River just before its outlet to the Atlantic. Take a look at this sprawling web of waterways on a map. It's fascinating to see how it all comes together!
This month we're taking a closer look at the tributaries. Want to see them up close? Consult the list below for reference. You can read more about each spot on our website. Some are very easy to access, others require a walk in the woods. Can you visit them all before the year is through?
Be sure to check out NSRWA's Explore South Shore Contest. This month we're featuring properties where you can "Meet the Tributaries." Please visit them, and then post a photo from your adventure to Instagram with the hashtag #ExploreSouthShore. Each month we randomly select a winner from the posts to receive a prize package.
Kezia Bacon's articles appear courtesy of the North and South Rivers Watershed Association, a local non-profit organization devoted to protecting our waters. For membership information and a copy of their latest newsletter, contact NSRWA at (781) 659-8168 or visit www.nsrwa.org. You will also find 25+ years of Kezia's Nature columns there. For more information about the Explore South Shore 2021 Contest, visit https://www.nsrwa.org/get-outdoors/explore-south-shore-2021-contest/